4 FREE Seasons Of Tire Storage - Winter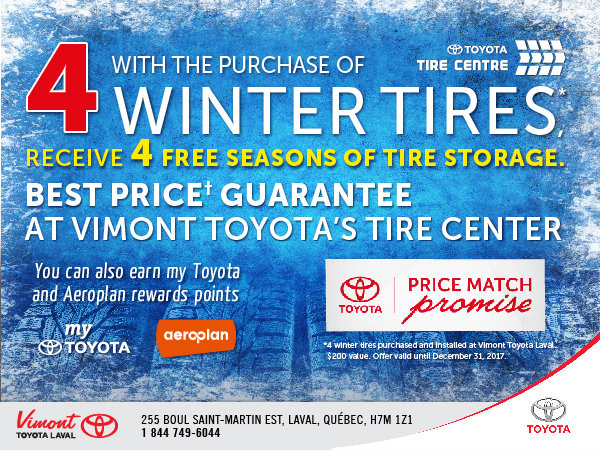 At Vimont Toyota Laval, get 4 FREE seasons of tire storage with the purchase of 4 new tires, a $200 value.
Here are our summer tires (price per unit):
Yaris at $84.95
COROLLA at $97,95
COROLLA iM at $218.95
CAMRY at $116.95
VENZA at $218.95
HIGHLANDER at $1429.54
RUNNER at $165.95
MATRIX at $138.95
C-HR at $160.95
RAV4 at $128.95
PRIUS at $92.95
SIENNA at $136.95
SEQUOIA at $165.95
TACOMA at $101.95
TUNDRA at $165.95
AVALON at $116.95
* To qualify for the 2 years free storage, the tires seasonal installation must be done at
Vimont Toyota Laval.
- The storage of summer tires expires on June 30th.
- The storage of winter tires expires on December 31st.
Hurry! This offer is for a limited time.
Contact Us or Book a Service Appointment