The first road tests of the 2018 Toyota Prius
October 31 2018,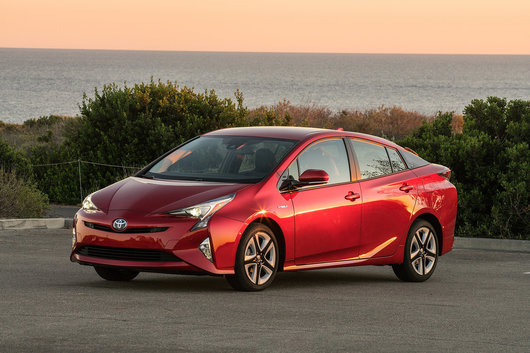 The Toyota Prius has just hit the market and is already attracting a lot of attention. Consumers increasingly want to save fuel, but they do not necessarily want to feel like they're driving a spaceship.
Fuel economy with a refined mid-size sedan ride, that's what the new 2019 Toyota Prius offers. Recent expert reviews confirm that the Prius indeed has a lot to offer.
The Prius got a serious renovation in 2016 and it remains relatively unchanged for the 2018 model year.

Anyone who felt the original Prius design was getting a little boring is in for a surprise. The current styling certainly sets itself apart. Toyota's CEO said, "No more boring Toyotas," and he wasn't kidding. The five-door liftback is pretty darn distinctive on the road and while I don't completely hate some of the angles, the exterior styling has not grown on me either. For the most part, I found it ugly and perhaps almost trying too hard to look different. I didn't meet anyone who liked the current Prius' styling while I was reviewing it. Honestly.

There is a benefit to the severe creases and angles – the 2018 Toyota Prius is one slippery beast with a 0.24 drag coefficient. Toyota went with the split rear window again, combining a raked rear hatch and a vertical glass partition. On our wet spring roads, I found that the vertical rear glass quickly got dirty from underspray and there is obviously no wiper to fix that, so I often found myself going to the gas station to wash that little window so I could see out of the back properly. Annoying! Ironically, the upper portion stayed perfectly clean. I never had occasion to use the rear wiper – Autotrader
---
With all models, power still comes from the combined efforts of a 1.8-litre Atkinson-cycle four-cylinder gasoline engine and an electric motor, but there have been numerous tweaks to the system – all in the name of fuel efficiency. The electric motor has been downsized slightly and the gas engine gains efficiency at the expense of a little top-end power. Torque output remains the same and it arrives lower in the rev range. The continuously variable transmission is smaller, lighter and frictional losses are down by 20 per cent. Improvements are also seen in the Prius' regenerative braking, as the system is now smoother and more progressive – Driving.ca
---
In our tests the Prius returned a phenomenal 52 mpg overall, ensuring low running costs. The car handles responsively and rides comfortably. The car can drive solely on electric, usually up to about 25 mph. – Consumer Reports
To learn more about the 2018 Toyota Prius, come visit us today at Vimont Toyota Laval!