4 FREE Seasons Of Tire Storage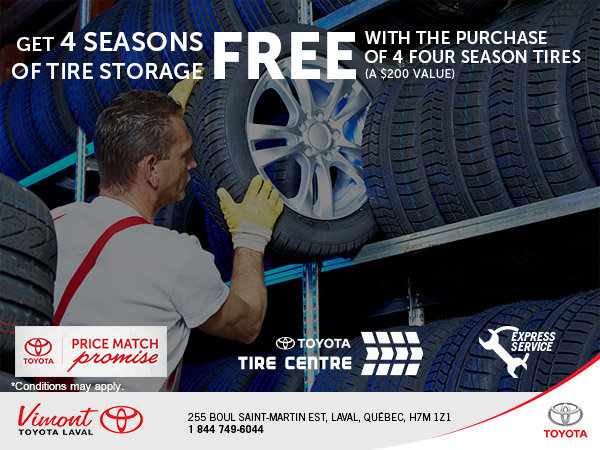 At Vimont Toyota Laval, get 4 FREE seasons of tire storage with the purchase of 4 new tires, a $200 value.
Here are our summer tires (price per unit):
Yaris at $79.95
Corolla/Prius at $80.95
Camry at $110.95
RAV4 at $127.95
Sienna at $109.95
Avalon at $118.95
Venza at $189.95
Highlander at $127.95
4Runner at $156.95
Sequoia at $164.95
Tacoma at $133.95
Tundra at $164.95
* To qualify for the 2 years free storage, the tires seasonal installation must be done at
Vimont Toyota Laval.
- The storage of summer tires expires on June 30th.
- The storage of winter tires expires on December 31st.
Hurry! This offer is for a limited time.
Contact Us or Book a Service Appointment