2018 Toyota Tacoma
December 31 2017,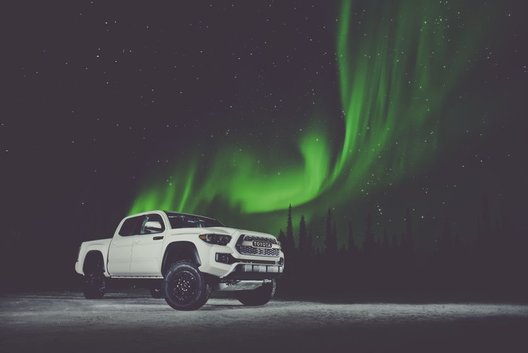 Toyota has built a solid reputation for practical, reliable and quality vehicles offered, at an accessible price. With a vehicle to meet all needs within its lineup, the brand is a serious, all-around competitor.
Even in the cutthroat pickup truck segment, the Toyota Tacoma and Tundra have carved a place among the popular Americans. The rugged mid-size Tacoma remains one of the most versatile trucks on the market. It combines both comfort, equipment and capability with little sacrifice. And with thirteen trims and combinations to choose from, with two and four-wheel drive powertrain options as well as single and double cabs, it is hard not to find a version of the Tacoma that will perfectly fit the bill.
Working hard doesn't mean that comfort should be neglected. While the single, Access cabin offers practical, foldable seats at the back, the Double cab will comfortably sit up to five people. Materials have been upgraded, alongside with the chassis design, with the introduction of the model's third generation for 2016.
The dashboard sports a rugged yet premium-looking design that perfectly fits the overall feel of the vehicle. Interior features include heated bucket power seats, two-zone climate control, wheel-mounted commands, backup camera, four-wheel drive selector, storage compartments under the rear seats, a 12-volt electric outlet, and keyless access.
Also new this model-year is the Toyota Safety Sense suite of safety technologies that includes pre-collision system with pedestrian detection, lane departure alert and dynamic radar adaptive cruise control.
Looking good isn't all the Tacoma does - it is also highly capable. Two engines are offered for maximum utility. The entry-level one is a 2.7-liter, four-cylinder rated at 159 horsepower and 180 lb-ft of torque. The 3.5-liter, V6 engine produces 278 hp and 265 lb-ft of torque which allows the Tacoma to offer a towing capacity of up to 2,950 kg with the a payload capacity that can reach 680 kg, depending on the version chosen. Both powertrains are available with a six-speed automatic transmission and the V6 can be teamed with a manual box for added control.
And don't worry about taking the Tacoma off-road, it will follow you wherever you need to go. The TRD off-road package will add even more off-road capable accessories such as a multi-terrain select system, rear-differential lock, fuel tank and transfer case protectors, all-terrain tires, active traction control, tire pressure monitoring, etc.
With a starting price of $30,900, the 2018 Toyota Tacoma is the ideal hard-work partner with flare. Visit our showroom at Vimont Toyota to see all the features the model has to offer and just how capable it really is.