2019 Toyota RAV4 Hybrid: an electrifying compact SUV
February 27 2019,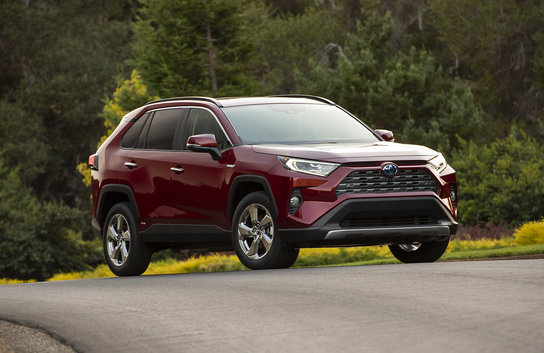 The Toyota RAV4 2019 has been completely redesigned this year and it is now the hybrid versions turn to get a complete makeover from top to bottom. The RAV4 Hybrid, already a unique SUV in its segment where very few electrified models exist, becomes even more interesting for 2019.
With the 2019 Toyota RAV4 Hybrid, Toyota proves that it is possible to get a spacious, versatile, and above all very fuel-efficient sport utility vehicle. It is for its hybrid engine that we buy this version of the RAV4 initially, but what is most surprising is that the model manages to quickly make us forget that there is a hybrid engine under the hood.
Powered by a dynamic 2.5-liter four-cylinder engine with an Atkinson cycle combined with an electric motor, the RAV4 Hybrid comes standard with AWD-I all-wheel drive to ensure perfect stability in any situation.
This system is specifically designed for hybrid vehicles and can transfer up to 30% of the available torque to the rear wheels when a loss of traction is detected. The driver thus obtains the fuel consumption of a FWD system in the majority of cases while enjoying the safety of an all-wheel drive vehicle.
With a net output of 219 horsepower, the 2019 Toyota RAV4 Hybrid has 16 more horsepower than the "normal" Toyota RAV4 while still delivering an average fuel consumption rating of just 5.8 liters per 100 kilometers in the city and 6.3 liters per 100 kilometers on the highway. This is quite an improvement considering that the RAV4 Hybrid costs only $ 1,400 more than the RAV4 with the regular engine and with the same equipment.
Starting at $ 32,090, the new Toyota RAV4 Hybrid comes standard with the Entune 3.0 7.0-inch display, Apple CarPlay and impressive safety that includes the Toyota Safety Sense 2.0 suite of active safety technologies and eight air bags.
There are 5 versions of the Toyota RAV4 Hybrid which means that there is really a version for everyone,for all needs, and for all tastes. To learn more about the new 2019 Toyota RAV4 Hybrid, contact us today at Vimont Toyota Laval.