2019 Toyota RAV4 reviews
July 15 2019,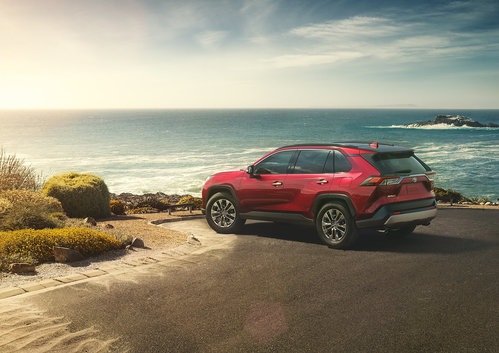 The 2019 Toyota RAV4 is one of the most popular SUVs in Canada. Its four-cylinder engine develops 203 horsepower, more than any other standard engine on any other compact SUV, but is also among the most fuel-efficient. In short, it is very easy to like the new Toyota RAV4 2019.
We have already covered the RAV4 in other articles, now let's take a look at what the media thinks.
Yes, the Toyota RAV4 is a good SUV. It handles well, rides smoothly, and gets great gas mileage. Though some rivals are more athletic, this Toyota has ample power for most driving situations. It may not be the most upscale SUV in the class, but the new RAV4 has a good-looking interior with plenty of room for people and cargo. It also has a lengthy features list that includes a lot of driver assistance technology, as well as a decent predicted reliability rating. It was also named a finalist for our 2019 Best Compact SUV for Families award.
Should I Buy the Toyota RAV4?
There are some strong contenders in this class, including the Honda CR-V and Mazda CX-5. Neither can match the RAV4's predicted reliability rating (though they both have solid ratings), but both are worth exploring if you're looking for a small crossover SUV. That said, the RAV4 brings a lot to the table, and while it has a higher-than-average starting price, this Toyota delivers plenty of bang for your buck – Cars US News
---
The Toyota RAV4, once a spunky upstart that pioneered the compact-crossover movement, has gotten progressively more mainstream over the course of its four generations. As it has slowly adopted the anodyne character that long characterized so many Toyotas, it has actually overtaken the Camry in sales, becoming the bestselling non-pickup in the United States in 2017 (and looking to repeat this year).
For the RAV4's fifth generation, Toyota is making a valiant attempt to reverse this slide into anonymity—while, of course, maintaining the model's popularity. The new RAV4 hopes to grab your attention with a healthy dose of visual flair, a new platform that aims to improve driving dynamics, and more variety among the different trim levels.
Even if it will eventually blend in purely on the basis of its inevitable ubiquity, the new RAV4 is eye-catching. Its chunky, squared-off shape combines with exaggerated wheel arches and an aggressive-looking front end to make for a distinctive style with lots of presence. There's an impressive amount of aesthetic variation among the different RAV4 trims, too, such as the cladding-heavy Adventure with its decidedly Subaru-like outdoorsy vibe, and the posh Limited with a heaping helping of chrome. A vibrant color palette, with cheeky two-tone combos available, is another refreshing addition to the option sheet – Car & Driver
Contact us today to learn more about the new 2019 Toyota RAV4.