Everything you need to know about the 2018 Toyota Camry
July 31 2017,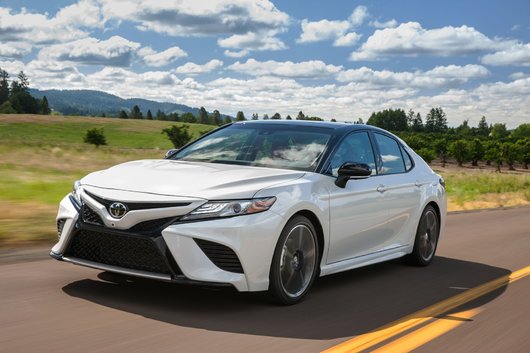 Unveiled at the Detroit Auto Show last January, the all-new 2018 Toyota Camry will arrive at dealerships very soon. Offered starting at $ 26,390, it promises to offer even more of what consumers love about the Toyota mid-size sedan, but with a whole lot of sportivity as a bonus.
"The 8th generation Camry has undergone a radical transformation around Toyota's new global architecture platform. The result is a sleeker silhouette, a more sporty style, a lower center of gravity that translates into more dynamic handling and improved fuel efficiency, "said Cyril Dimitris, Vice President, Toyota Canada Inc. We added an impressive interior featuring high-end materials, features and technologies, including the Entune-connected technology, to create an absolutely exceptional sedan."
2018 Toyota Camry features a new architecture and sharper behavior
The personality of this new-generation 2018 Toyota Camry will be considerably different than that of the older generation which emphasized comfort and refinement. The new Camry will always be comfortable on the road, but it adds a touch of spice that will appeal to those who enjoy having fun on their way to work or on their daily commutes.
The 2018 Toyota Camry is built on a new global architecture called TNGA, a design philosophy that aims to provide superior handling and performance while expanding the silhouette of the Camry. With an increased length and reduced height, the 2018 Toyota Camry features more sporty and muscular lines.
New engines and improved connectivity technologies
The 2018 Toyota Camry is the first Toyota in Canada to receive the Entune 3.0 Audio system with the Entune App Suite Connect as standard on all models in its lineup. These technologies offer several advantages and possibilities, including the possibility of receiving information on traffic conditions, sports results, stock market prices or fuel prices.
In some 2018 Toyota Camry versions, Entune 3.0 will also offer the Entune Safety Connect feature that sends automatic collision notifications, enhanced roadside assistance and emergency assistance. There is even a function to locate a stolen vehicle.
The 2018 Toyota Camry will be available as standard with a 2.5-liter, four-cylinder engine that makes 203 horsepower, one of the highest power outputs in the mid-size sedan segment for an entry-level engine. There will also be a 3.5-liter V6 engine developing 301 horsepower as well as a hybrid engine. An 8-speed automatic sends power to the front wheels.
The 2018 Toyota Camry will be on sale shortly. Come and learn more today at Vimont Toyota Laval!