The 2019 Toyota RAV4 Reviews are in, and they are quite positive
December 30 2018,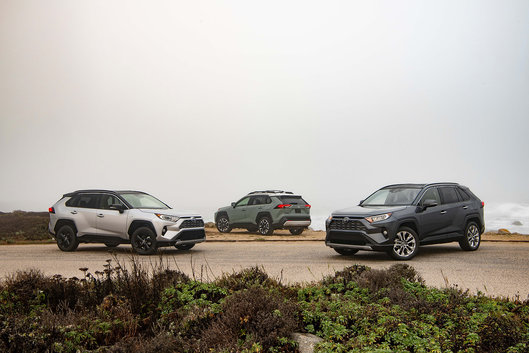 The 2019 Toyota RAV4 is completely redesigned this year. Having already covered the model's most important changes, let's now look at what the media has to say about the brand-new 2019 Toyota RAV4.
There are plenty of reasons why the RAV4 has edged out the Camry and Corolla when it comes to sales for the Japanese automaker in the U.S., and this new generation promises to win over even more fans of pocket SUVs and crossovers. The redesign has abandoned the slabby, people-hauler look of the outgoing model for rugged versatility and convenience, trading slightly naff dynamics for a more planted driving feel and genuine off-road skills. Not all of the competition is going in this direction, and I suspect this is where the RAV4 will score points against its ever-growing gang of frenemies – AutoWeek
---
There's more mechanical variety than before, too. While the lineup still consists of just two powertrains—a base 2.5-liter inline-four mated to an eight-speed automatic and an Atkinson-cycle version of the same engine paired with a hybrid transaxle—Toyota is attempting to diversify the RAV4's capabilities with a choice of three all-wheel-drive systems. Front-wheel drive remains standard, and the LE and XLE models offer a fairly typical all-wheel-drive system as an upgrade. The more sophisticated setup that's optional on the Limited and standard on the Adventure incorporates torque vectoring and can disconnect the rear axle at times. The third system is present on all RAV4 hybrids, and uses an electric motor mounted to the rear axle to power the rear wheels. The hybrid also offers an XSE trim level with a sportier suspension tune – Car&Driver
---
At the same time, the new RAV4's cargo area is 2.5 inches longer, its sides were reshaped for extra space and its versatile floor panel can be lowered to gain 2.2 inches of extra depth or flipped over to reveal a more easily cleaned hard plastic surface. Up front, the wider center console features a deeper under-armrest bin, a huge smartphone holder that can be upgraded with Qi wireless charging, and a pair of large cupholders placed side-by-side rather than scattered about among a series of useless shallow bins as in the old RAV4.
In terms of comfort, the back seat gains an extra 0.6 inch of legroom and an extra inch of shoulder room, while the new platform yields a more composed ride and a quieter cabin. There's also, not surprisingly, an abundance of new features. Accident avoidance tech is still standard on every trim level, but infotainment is enhanced with standard in-car WiFi, Amazon Alexa connectivity and Apple CarPlay. The base LE has a 7-inch touchscreen, but all others get an 8-inch unit that actually seems bigger thanks to its high, easily reached dash-top position. It's one of the easier systems to use. The accompanying new physical controls, most notably the chunky rubber-coated knobs for the stereo and climate control, look great and feel expensive when operated – Autoblog
To learn more, contact us today at Vimont Toyota!