The 2020 Toyota Corolla Will Offer a Hybrid Model
April 28 2019,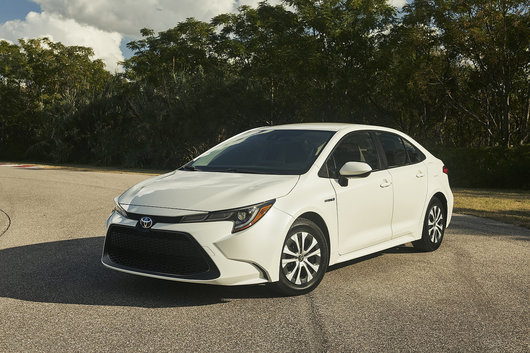 Well wouldn't you know it. One of Canada's most fuel-efficient compact sedans gets even more efficient with the brand-new 2020 Toyota Corolla Hybrid. Introduced back in November, the all-new Corolla Hybrid is slated to be the only hybrid model in its immediate segment.
Featuring advanced safety technology, a wide range of new design features inside and out, and one of the most fuel-efficient engines you can get on the market today, the Corolla Hybrid will shake things up when it arrives on the market this spring.
The Most Fuel-Efficient Compact Sedan You Can Buy
With a fuel economy rating that will be less than 5.0 liters per 100 kilometers, the 2020 Toyota Corolla Hybrid will be one of the fuel-efficient vehicles you can buy in the compact sedan class. It will use the new-generation Hybrid Synergy Drive from Toyota, a compact system which doesn't impact cargo space, for example.
The all-new 2020 Corolla Hybrid will also pack Toyota's latest Entune 3.0 multimedia system with Apple CarPlay and Toyota's advanced Toyota Safety Sense 2.0 system.
The latter includes:
PCS (Pre-Collision System): Is designed to automatically activate the brakes to help avoid a collision or mitigate the impact force. PCS is able to detect a vehicle or pedestrian in day and low-light conditions, as well as a bicycle during daylight.
Full-Speed DRCC (Dynamic Radar Cruise Control): Designed for highway use, designed to maintain a set vehicle-to-vehicle distance and is also capable of low-speed following up to speeds of about 24 mph. The Corolla can stop when the vehicle ahead comes to a stop, maintaining an appropriate distance to it.
LDA (Lane Departure Alert) w/ Steering Assist: Designed to give the driver audible and visual warnings and, if necessary, provides steering assistance if it detects the possibility of leaving the driving lane. It also detects excess weaving within the driving lane that might indicate driver distraction, inattention or drowsiness.
LTA (Lane Tracing Assist): LTA is enabled when LDA and DRCC are both on and active. LTA employs a lane centering function that will make constant steering inputs to help the driver keep the vehicle in its lane. LTA is designed for uses on relatively straight highways to preemptively avoid unwanted lane departures and reduce driver fatigue.
AHB (Automatic High Beam): When enabled, detects the headlights of oncoming vehicles and taillights of preceding vehicles and automatically switches between high and low beams as appropriate.
The 2020 Toyota Corolla Hybrid also includes three drives modes that allow the driver to change how the car behaves. Contact us today to learn more about the new Corolla Hybrid.