What is Active Safety and why does it matter?
February 28 2019,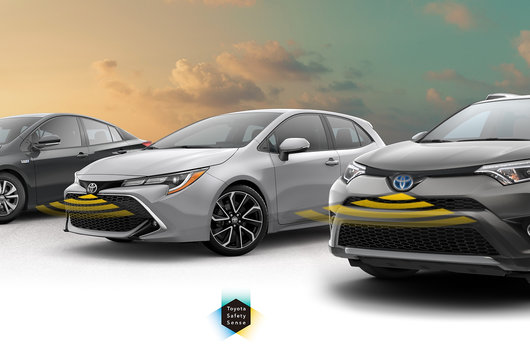 Modern vehicles are quite safe. Safer than vehicles that were on the roads a decade ago, and getting safer every new model year, no doubt about it. How they are getting safer is twofold: their structures are a lot stiffer, they have more airbags and their engineering is designed to disperse the force of an impact away from the driver and passengers; and there are a lot more active safety features.
But what is active safety exactly? It's a term we have been hearing more and more of, and that we will likely keep hearing about.
"Active safety features are designed to prevent an accident from ever happening. Passive active safety systems are there to protect you in the event that an accident happens", explains a sales representative at Vimont Toyota Laval.
Active safety systems use cameras and radar systems to scan the road around the vehicle and take notes on what the other vehicles are doing. When these radars and cameras detect something that can be dangerous to your car or SUV, they will either warn you or take control to prevent a collision.
Examples include active cruise control which automatically applies the brakes when cruise control is activated in order to keep a safe distance with the vehicle ahead of you. Forward collision warning will let out an audible signal to tell you if the vehicle ahead of you is braking. If you do not react, the vehicle can brake automatically. Rear cross traffic alert will warn you if another vehicle is approaching while you are backing up. Blind sport monitoring will keep an eye on your blind spot and tell you when another vehicle is in that blind spot. Lane keeping assist can warn you if you are swerving and even take control of the vehicle and put it back in the middle of the lane.
At Toyota, every 2019 Toyota model has most if not all of these features as standard equipment thanks to the Toyota Safety Sense P system.
As you can see, for those who want to very best when it comes to safety, active safety systems, often optional, are definitely the way to go. Come in today to learn more about Toyota Safety Sense.